100% Dell Servers
The Data Centre has all Dell servers in the web hosting platform. Utilising state-of-the-art technology to build a web hosting platform that is second to none.

The configuration is designed for extreme fault tolerance - If any server fails another is already running parallel and takes over. Visitors are unlikely to notice any blip and no email is lost.

Data Storage (separate from the Host Servers themselves) is in duplicate, synchronised large-scale network disk arrays.

Schematically, It's like this...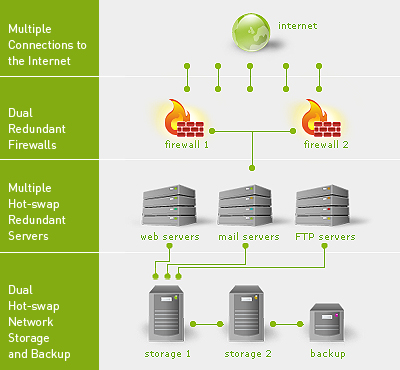 The Current Server specification is:
* Dual Intel Xeon Processor 3.4GHz with 2MB Cache
* 8 GB RAM
* Dual 136 GB SCSI Drive (for the operating system)
* RAID Mirroring (for the operating system)
* Dual Power Supplies
* Dual Gigabit Network Adapters

| | |
| --- | --- |
| | 100% Cisco Gigabit Network |
The network operates on industry-leading 'Gigabit Technology' equipment from Cisco. That's 1000 Mb per second ! - most web hosting networks are limited to 100 Mb per second.

It also has 100% CAT6 network wiring, fully utilised - giving more than twice the speed of CAT5e, the 'norm' with most hosts... if you know your cables.
| | | |
| --- | --- | --- |
| | Redhat Enterprise Linux Platform | |
Redhat is the leading provider of Linux open source software. For many years now Redhat Linux has been the number one choice for web hosting companies, not just because of Redhat's amazing scalability but also because of its track record as the most stable operating system available in the market today.

The Systems Specifically have the most up-to-date Redhat Enterprise Linux server technology for stability and maintenance of the highest security - always with the latest patches.

Connectivity
The BGP4 technology... Simply put, means there are multiple connections to the Internet, each with different backbone providers.
Hence, The Routers - really can Route - dynamically analysing performance and choosing the fastest and most stable lines to use or spread the load over.
---